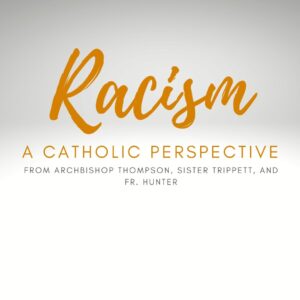 RESPONDING TO RACISM- A CATHOLIC PERSPECTIVE – OUR GUESTS ARCHBISHOP CHARLES C. THOMPSON, SISTER GAIL TRIPPETT, PARISH LIFE COORDINATOR, ST. RITA'S AND HOLY ANGELS, AND FATHER DOUGLAS HUNTER, COLTS CHAPLAIN AND PASTOR AT ST. ROCH'S PARISH TALK WITH FAITH IN ACTION CO HOSTS, BRIGID AYER AND JIM GANLEY ABOUT THE RECENT CIVIL UNREST AROUND THE COUNTRY, RACISM AND OFFER A CATHOLIC PERSPECTIVE. THE LINK TO ARCHBISHOP'S STATEMENT ON RACISM IS BELOW. 
https://archindy.org/archbishop/racism2020.html
TO LISTEN TO THE INTERVIEW, CLICK THE PLAY BUTTON BELOW.