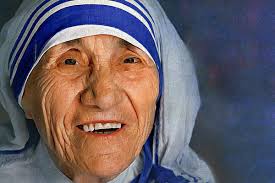 During Lent, I light my Advent candles and enjoy some quiet time with the Lord. Over the years, my bookshelf of spiritual reading grows. One selection which I enjoy very much and only use during the Advent Season is a book called simply "Little Blue Book."  I have the paper version book, but it's also available online. CLICK HERE. Today's reflection struck a chord. I share with you an excerpt.
"Let us keep that joy of loving Jesus in our hearts, and share that joy with all we come in touch with. That radiating joy is real, for we have no reason not to be happy because we have Christ with us. Christ in our hearts, Christ in the poor we meet, Christ in the smile we give and the smile we receive."
—–Mother Teresa's remarks when she accepted the Nobel Peace Prize Dec. 10, 1970.
And Mary said: "My soul proclaims the greatness of the Lord; my spirit rejoices in God my savior. For he has looked upon his handmaid's lowliness; behold, from now on will all ages call me blessed.
(Luke 1:46-48)
The concept of joy runs through Luke's story of the birth of Jesus. Mary sets the tone here as she begin her Magnificat; "My spirit rejoices in God my savior."
Think of a time when you rejoiced in what someone else had done—a son or daughter, a close friend, or someone you hold as a " hero" in your life.
That is the kind of rejoicing Mary is talking about. She rejoices in the "greatness of the Lord" in "God my savior." Mary loved God. And when she realized firsthand how really good God is, she sand for joy. Her heart was filled with joy.
Isn't this the kind of experience, celebrating someone else accomplishment a source of joy like none other?
The best prayer of all is the kind I experience when I suddenly and simply realize how good God is. What a blessing to have a God like that.
I have the same God as Mary. I can take those words of the Magnificat and make them my own. It's as fine a prayer as there is.